Eai galera, vamos retornar com as formalidades do FDEC. XD Para votar, clique no link:
Caso não tenha Facebook, comente abaixo ou crie uma conta, é fácil, rápido e simples. Agradeço sua resposta lá e também o seu curtir! Sem mais enrolação, vamos conhecer os candidatos. Os mesmos são:
Candidata 1: Chaos Goddess
1 LIGHT Tuner + 2 or more non-Tuner DARK monsters
Once per turn, you can send 1 LIGHT monster from your hand to the Graveyard to select 1 Level 5 or higher DARK monster in your Graveyard; Special Summon that monster. It cannot be used as a Synchro Material Monster.
Candidato 2: Artorigus, King of the Noble Knights
2 Level 4 "Noble Knight" monsters
When this card is Xyz Summoned: You can target up to 3 "Noble Arms" Equip Spell Card with different names in your Graveyard; equip those targets to this card. Once per turn: You can detach 1 Xyz Material from this card, destroy any number of Spell/Trap Cards on the field, up to the number of "Noble Arms" Equip Spell Cards you control.
Candidato 3: Super Ancient Deepsea King Coelacanth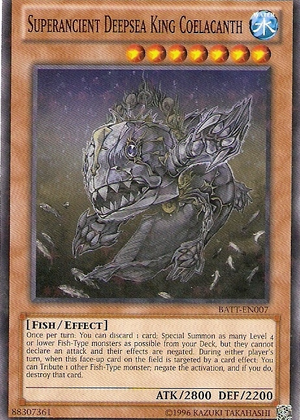 Once per turn: You can discard 1 card; Special Summon as many Level 4 or lower Fish-Type monsters as possible from your Deck, but they cannot attack and their effects are negated. During either player's turn, when this face-up card on the field is targeted by a card effect: You can Tribute 1 other Fish-Type monster; negate the activation, and if you do, destroy that card.
Candidato 4: M - X Saber Invoker
2 Level 3 Monsters
Once per turn: You can detach 1 Xyz Material from this card; Special Summon 1 Level 4 EARTH Warrior or Beast-Warrior-Type monster from your Deck, in face-up Defense Position. Destroy it during the End Phase.
Candidato 5: Mini-Guts
Tribute 1 monster to target 1 face-up monster your opponent controls; its ATK becomes 0 until the End Phase. This turn, when it is destroyed by battle and sent to their Graveyard: Inflict damage to your opponent equal to its original ATK in the Graveyard.
E então, comenta lá! Agradeço. Flws \o